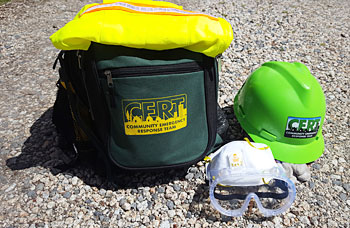 The City of Santa Cruz is sponsoring a City of Santa Cruz CERT Skills Exercise on June 2, 2018, 9am–1pm at the Emergency Operations Center in DeLaveaga Park.
Participant Information
This exercise is open to the City of Santa Cruz CERT team — those who live and/or work in the City of Santa Cruz. It is designed as a skill review opportunity as teams rotate through several stations and also respond to an emergency scenario. We are limited to 30 participants and registration will be allocated on a first-come, first-served basis to qualified registrants. There is a priority registration deadline of May 18, 2018. After that date, remaining spaces may become available to CERT members from other community teams. All registration must be completed by May 25th.
This exercise will qualify for 4 hours of credit towards your Disaster Service Worker credential recertification.
If you do not live and/or work in the City of Santa Cruz and would like to participate in the exercise, we would be happy to put you on our waiting list and will let you know if any unclaimed spaces are available.
Please note that only registered participants or registered volunteers will be allowed on-site, for safety as well as operational need. Please do not bring guests to this skills session.
Volunteer Opportunity
We also have a need for 10–15 volunteers for event sign-in, food assistance, and actors for the event. If you would like to help with this drill please register as a volunteer with the link below.
Water and Lunch
Please bring your own refillable water bottle. Lunch will be provided for Participants and Volunteers. We may not be able to meet all dietary restrictions or preferences, and individuals may choose to bring their own lunch. Food details to follow no later than May 25th.
If you have questions, please contact CityOfSantaCruzCERT@gmail.com. Sign up below: