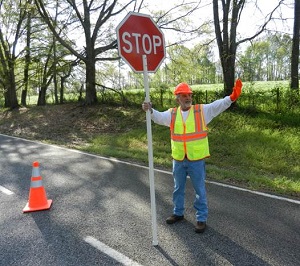 CERT Crowd and Traffic Management Course
April 18, 2020 from 1–5 pm
Watsonville
This course is free and open only to CERTs from Monterey, San Benito, and Santa Cruz Counties (10 students from each). Designed specifically for CERTs, the course is State-approved. Help CERTs stay safe.
Students will learn proper procedures for day and night time traffic management, including a hands-on component, and crowd control management. Graduates receive certification and a CalTrans-compliant retroreflective and breakaway vest.
Space is limited. Please Register as soon as possible.
Note: New Santa Cruz County registrants are being put on a waiting list. If any San Benito or Monterey County slots are not filled, waiting list requests will be contacted in the order received. If selected, notification will be done no later than April 10th. Another class is planned for later in the year and all those unable to get into this class will have first priority in that class.
Once registered, specific information (including location) will be sent to those attending.
Email certauxiliary@gmail.com or call (831) 475-2633 for questions or more information. View a printable flyer.
This training is made possible through a 2018 Urban Area Strategic Initiative (UASI) Tri-County grant fund and executed through the CERT Auxiliary.